BRANDED FURNITURE
IMAGESOURCE BRANDED FURNITURE IS LIGHTWEIGHT, PRINTABLE, CUSTOMISABLE AND REUSABLE, ADDING SUSTAINABILITY TO YOUR SIGNAGE
Why hire furniture when you can print and reuse your own display stands and systems? Save big dollars each year. Imagesource has an extensive range of versatile branded furniture, standees, brand activation displays, event and exhibition displays, display stands and systems and point-of-sale displays made from sustainable engineered closed-cell fibreboard. The fibres have been recovered from recycled cardboard boxes so you know you are using an earth friendly product. The surface is digitally printed with your design prior to cutting, then we assemble the completed piece for you prior to delivery. If you require the panels to be delivered, they can be shipped flat-packed and you can set up and install at your end.
The products displayed here are only a small example of the options available to you. Download our catalogue of ideas here.
All of our recycled board products come with a template to which you can add your design. Alternatively, we can quote on in-house design for you.
Please contact us via the form on our website for a tailored solution.
Display booth
Events
Expos
Brand activation
Point-of-sale
Trade show
Local councils
Display stands
Custom designs
Product information
Features
Light weight
Printable
Flat pack shipping available
Easy to set up and install
Strong and durable
Cost effective
Sustainable
X-board was specifically designed for three dimensional structural applications, with it's dense closed-cell core and a crush strength of 60 tonnes per square metre, it's hard to believe that this is actually a paper product. The dense core means you don't have to worry about losing structural integrity when you start v-cutting and folding X-board. This allows you to create elegant immersive temporary load bearing structures, that are perfect for events and exhibitions.
Some of the common misconceptions about using sustainable materials is that you'll be compromising on quality but paying more. X-board is a premium material, even though it is made up almost entirely from post consumer paper waste. It is not only fully recyclable, but fully repulpable as well. So at the end of the exhibition or trade show, if you're not looking to reuse your X-board display, simply put it in the recycling bin.
STRETCH BENCH SEAT
Stretch bench seats can be scattered as branded furniture at an event or promotion. Reuse your furniture at every event!
Dimensions
500mmW x 450mmH x 400mmD
COCKTAIL TABLE
Cocktail tables are great for events, brand activation and trade show/expo booth furniture.
Dimensions
600mmW x 1100mmH x 600mmD
NIOBIUM
Nobium is for indoor or short-term outdoor brand activations. Add an optional bucket insert or other accessories, including acrylic top.
Dimensions
850mmW x 1000mmH x 420mmD
ZUKARRA
Zukarra includes one table and four stools. Great for events and trade show/expo booth furniture.
Dimensions
600mmW x 730mmH x 1200mmD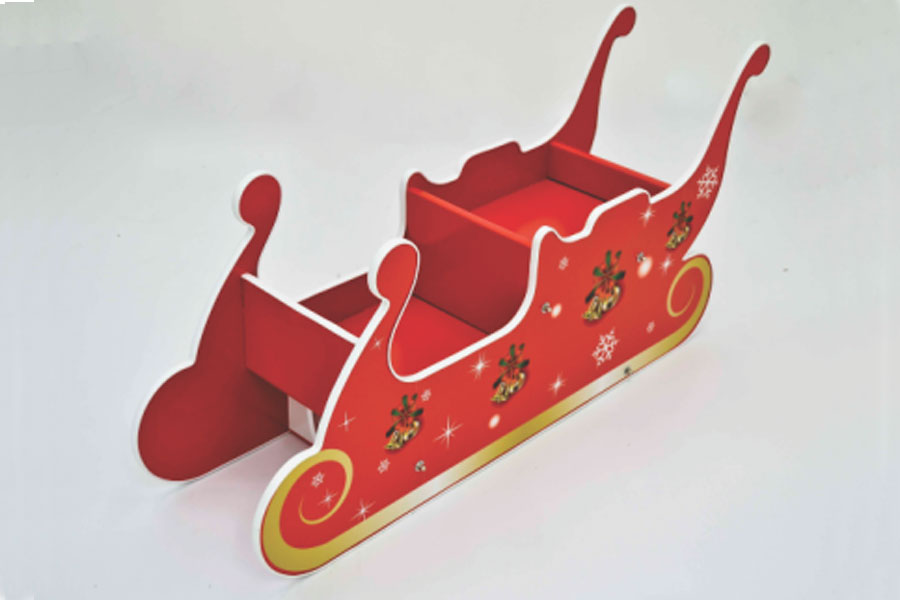 SLEIGH
Sleigh is a fantastic solution for advertising space over the festive season, offering ample space for branding and product placement.
Dimensions
503mmW x 593mmH x 1092mmD
5 STAND
5 Stand is free standing and suitable for storing lightweight products, the shelves and the back spine panel can be printed and creatively shape cut. Edge finish with black and white PVC capping or leave in it's natural eco-chic state.
Dimensions
650mmW x 2095mmH x 350mmD
Have your promotional messages, logos, brands, patterns or images direct printed on any surface
BEN
A large free standing unit with alternating shelving options and ample branding space, the top insert panel can be printed and creatively shape cut.
Dimensions
480mmW x 1570mmH x 388mmD
POP-UP SHOP
It doesn't come easier than this for an instant shop-in-shop solution.
Dimensions
2000mmW x 2900mmH x 2025mmD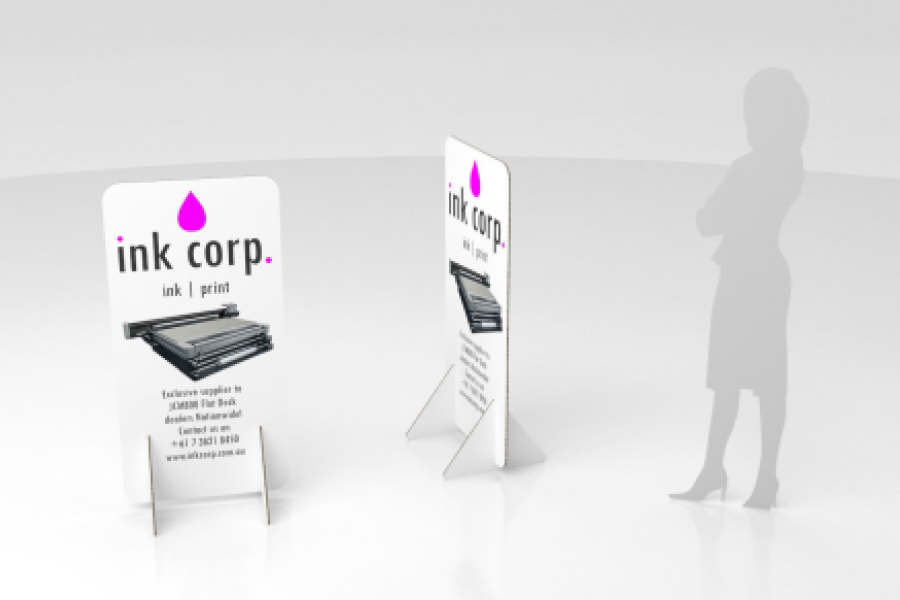 SPUTNIK
Sputnik replaces metal A-frame signs for indoor events and retail applications. Cut three units from one sheet of X-board. Low cost and is fully repulpable post promotions.
Dimensions
600mmW x 1200mmH x 430mmD
TEEDIA
Teedia presents a more traditional shaped brochure or catalogue holder, with printed wrap-over edging on the front shelves and uprights.
Dimensions
510mmW x 1820mmH x 320mmD
ORBIT
Orbit packs into a small size but extends on site to nearly two metres tall. Great for brand activation when contour cut into product shapes. Double sided print available.
Dimensions
600mmW x 1940mmH x 500mmD
POP-UP OFFICE
Setup is a breeze for this private meeting room solution, abundant space for branding and storage.
Dimensions
2100mmW x 2200mmH x 430mmD
Your One Stop Printing Solution