SMALL DISPLAY SIGNAGE
Our range of smaller display signage is endless. From temporary roster signs to long term promotions. We'll have the solution for you.
We have a diverse range of small display signage. We offer temporary and permanent options, with choices for portable or fixed signage. We have budget options for single use applications and many of our permanent signage options can be reskinned with self-adhesive vinyl to align with your various promotions across the year. Flexibility and impact.
Pop-up Fabric Signs
Cafe Barriers
Ready To Go Frames
A-Frame Signs
Coreflute Signs
Weighted Base Signs
SWING AWAY SIGN
The Swing Away sign is perfect for sidewalk advertising. The PVC water base weighs up to 17kg when filled and has space for additional branding also. The A2 insert can be easily replaced when needed.
MULTI BASE
The Multi base is a water filled base that holds posters and flags of any size and shape. 17 litre water capacity makes it extremely stable against the wind. Have your logo printed on the base to promote your brand. Supplied with ground pegs and flag spigot. Will take 4-11mm substrate.
POP UP FABRIC A-FRAME
The pop up fabric folding A-frame is the most portable A-frame to date with the ability to fold up or down within seconds. Great for indoor and outdoor use.
READY TO GO FRAMES
Ready-to-go sign frames are made of powder-coated steel meaning they are ideal for outdoor signage requirements. Simply slide over star pickets inserted into the ground for a professional clean look. The face of the sign can be printed on either Corflute or ACM for a longer lasting solution. You can use the frames as a single sided or double sided option, allowing maximum exposure in the simplest way possible.
Your One Stop Printing Solution
ROSTER SIGNS
Coreflute roster signs are perfect for directionals or short term advertising. Supplied flat, great for transport and easy storage. Easy to assemble and made of lightweight corflute with die cut locking assembly.
SPECIFICATIONS
Small – 600x300mm
Medium – 600x460mm
Large – 600×750
Bollard (3 sides) – 270x1000mm
CORFLUTE SPIKES
Our coreflute ground spikes are a great option for those who are after a quality sign holder, without a hefty price tag. Order your 5mm corflute signs with vertical flutes, slide them onto your ground spikes, and push them into the ground with the handy footrest.
SPECIFICATIONS
Suitable for 5mm thick corrugated plastic signs

Maximum recommended sign size of 600mm w x 450mm h

Coreflute signs are sold separately
BASE
SNAP FRAMES
Quick clip style poster frames utilise four hinged sides that simply flip open and close in a snap. This allows for quick and easy changing of the poster and is ideal for advertising and general signage.
FEATURES
32mm frame
Silver mitred corners or chrome rounded corner
Posters protected by a clear cover sheet
Can mount in portrait or landscape format
Lockable with Allen Key
SPECIFICATIONS
FRAME
Aluminium or black aluminium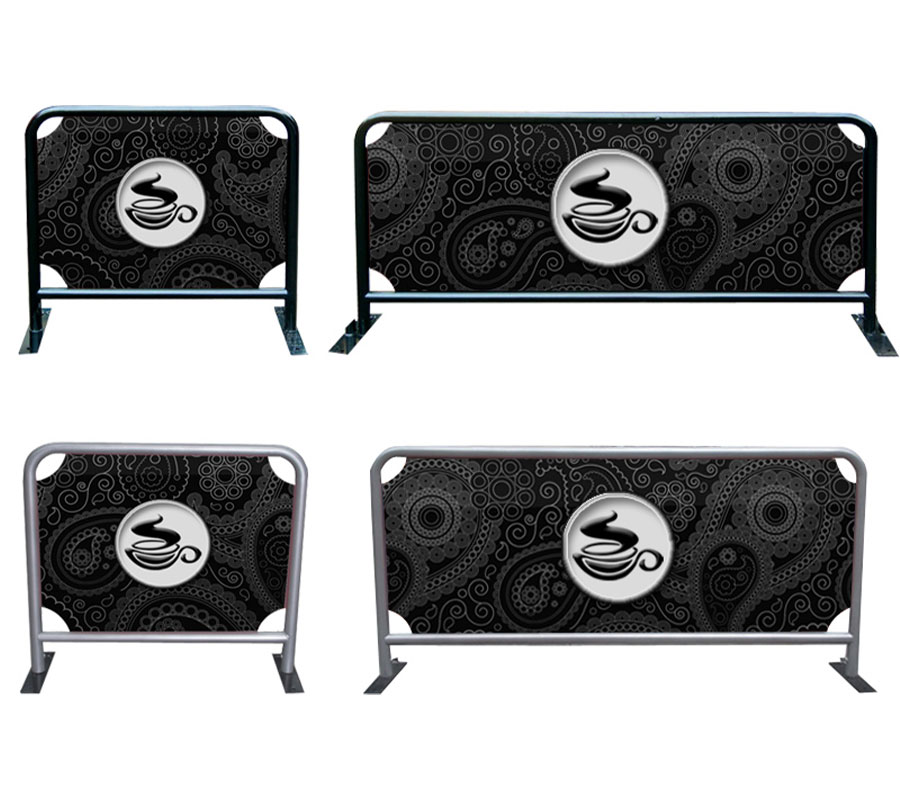 CAFE BARRIERS
Café barriers are an opportunity to create eye-catching branding whilst screening your outdoor pavement area. The barriers provide wind protection for your business and clientele. The structure is made from a 44mm steel powder coated matte black frame and is suitable for both outdoor and indoor use.
SPECIFICATIONS
Small 1000w x 1000h
Large 2000w x 1000h
ECOFLEX SIGN HOLDER
Our Ecoflex sign holder is perfect for pavement, roadside, poolside and event signage. The combination of low centre of gravity and flexibility with sign boards provides you with the most wind resistant, weather resistant, versatile and cost efficient sign holder available.
SPECIFICATIONS
FEATURES
Single nylon fixing – no tools required
Rugged recycled PVC base for excellent stability and performance
Sign holder has a carry handle
Options for signage panel – Ecoflex panel or ACM panel
ECOFLEX SIGN PANEL
The Ecoflex panel (460 x 783mm) has been tested in winds over 110km per hour. The panel has rounded corners and a smooth powder coated edge that minimises health and safety concerns.
SPECIFICATIONS
ACM SIGN PANEL
The ACM panel (600 x 900mm) has rounded corners that minimises health and safety concerns and features a handle for portability.
SPECIFICATIONS
FEATURES