LARGE DISPLAY SYSTEMS
No matter what the occasion or location Imagesource have a range of display systems available to suit your requirements. There are illuminated and backlit displays, and all displays allow you reskin with your newest promotions.
Imagesource have many large display products available, contact us now via the form on the website to discuss your options further:
LED Lightbox Display Systems
Vinyl Banners
Fabric Tension Displays
SEG Fabric Display
iDiamond Pull-up Banner
iSilver Pull-up Banner
iGold Pull-up Banner
iPlatinum Pull-up Banner
iWall Systems
All of the pull-up banner display systems come with a carry case and easy-to-use base options; thus making it one of the most efficient and effective signage pieces on the market:
Specifications
Our i-Banner Display Systems feature:

Extremely easy setup & portability

Brilliant colour reproduction

Outstanding resolution output

Fast production turnaround time
Stocks & Materials
Our i-Banner Display Systems are manufactured with:
Grey back polyester banner material

Powder-coated aluminium bases

Heavy duty carry bags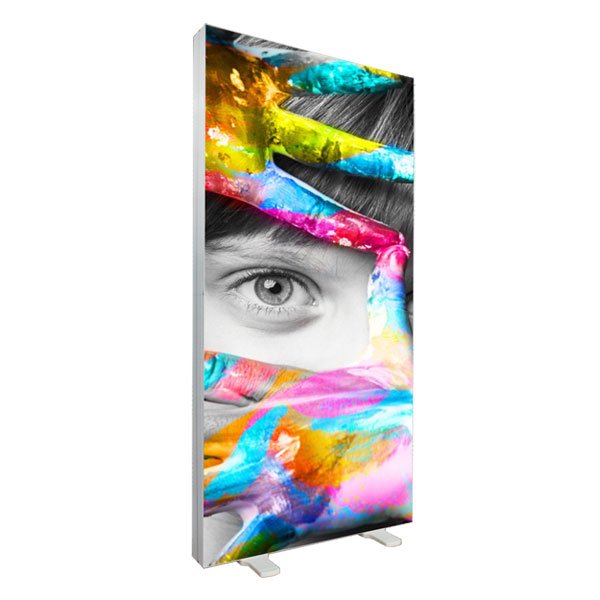 LED LIGHTBOX DISPLAY SYSTEM
The high level of brightness and an even illumination makes the Imagesource LED Light display the best among illuminated displays. Easy to move and assembled without tools, you can combine several modules for larger, illuminated displays. Easy to use silicon lip edging allows for easy, flat mounting of your print media and can be easily exchanged.
SPECIFICATIONS
1000 x 1500mm
1000 x 2000mm
2000 x 2000mm
2500 x 2000mm
3000 x 2000mm
I-DIAMOND BANNER
The I Diamond has chrome endcaps & no protruding feet, anodised aluminium silver base and padded carry bag.
Complete with full colour graphic on premium block out polyester is a high end pull up display system, perfect for high end events.
SPECIFICATIONS
850 x 2000mm
1000 x 2000mm
1200 x 2000mm
WEIGHT
BASE
WARRANTY
THE I-SILVER BANNER
The i-Silver banner is an ideal all-round banner system. With a quality spring roller mecha- nism that protects your banner and a footed metal base, it is reliable and durable.
SPECIFICATIONS
WEIGHT
BASE
WARRANTY
THE I-GOLD BANNER
With larger visual space options, the i-Gold banner promotes a European design roller and a wider base to pro- mote sturdiness. A heavy duty spring mechanism and quality vinyl ensures that your i-Gold banner will make a statement
SPECIFICATIONS
WEIGHT
BASE
WARRANTY
THE I-PLATINUM BANNER
Taking the lead in its field, the i-Platinum offers the largest visual spaces available in the entire range. Stand out from the crowd with a premium grade roller & spring system, and a stylised base that is also available in a double-sided option.
SPECIFICATIONS
WEIGHT
BASE
WARRANTY
VINYL BANNERS
Our Vinyl banners are perfect for short term signage, promoting an event, trade shows or any event you want to be noticed!
Priced per square metre in any size you need. Comes with rope and eyelets for easy installation and relocating, or kedar edge vinyl banners are available for permanent installed sail track frameworks.
Contact us for a quote today.
Your One Stop Printing Solution
I-WALL SYSTEM
The I Wall pop up display is very popular for trade shows and exhibitions. It is versatile, coming in various sizes, and easy to assemble. Can come straight, curved or serpentine in single or double sided walls.
SPECIFICATIONS
3 x 3 straight
3 x 4 straight
3 x 3 curved
3 x 4 curved
Contact us for exact sizing and templates.
WARRANTY
FABRIC TENSION DISPLAYS
Our Fabric Tension Displays are becoming popular a number of reasons. They are lightweight and easy to assemble with push button connections. The stretch fabric print easily slides over the frame for a snug fit.
We offer a curved or straight wall configuration in a variety of sizes. Contact us for more information.
WARRANTY
SEG FABRIC DISPLAY
SEG Banners are easier to transport than traditional signage applications. Folded neatly, in the supplied bag , easily fits into your car boot, the fabric takes up much less space than a rigid substrate. 
The framing system is simple making it easy to disassemble and transport. 
SPECIFICATIONS
2250(W) x 2250(H) x 340(D)
WEIGHT
WARRANTY